Posts for tag: oral health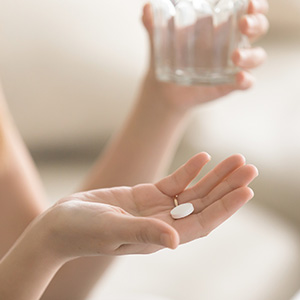 Because the mouth is one of the most sensitive areas of the body, we go to great lengths to eliminate pain and discomfort associated with dental work. Anesthesia, both local and general, can achieve this during the actual procedure—but what about afterward while you're recuperating?
While a few procedures may require prescription opioids or steroids to manage discomfort after a procedure, most patients need only a mild over-the-counter (OTC) pain reliever. There are several brands available from a group of medicines called non-steroidal anti-inflammatory drugs (NSAIDs). NSAIDs like aspirin or ibuprofen work by blocking the release of prostaglandins into the body, which cause inflammation in tissues that have been damaged or injured.
Unlike their stronger counterparts, NSAIDs have fewer side-effects, cost less and aren't addictive. And unlike opioids NSAIDs don't impair consciousness, meaning patients can usually resume normal activities more quickly.
But although they're less dangerous than opioids or steroids, NSAIDs can cause problems if taken at too strong a dose for too long. Its major side effect is interference with the blood's clotting mechanism, known as "thinning the blood." If a NSAID is used over a period of weeks, this effect could trigger excessive external and internal bleeding, as well as damage the stomach lining leading to ulcers. Ibuprofen in particular can damage the kidneys over a period of time.
To minimize this risk, adults should take no more than 2400 milligrams of a NSAID daily (less for children) and only for a short period of time unless directed otherwise by a physician. For most patients, a single, 400 milligram dose of ibuprofen can safely and effectively relieve moderate to severe discomfort for about 5 hours.
Some patients should avoid taking a NSAID: pregnant women, those with a history of stomach or intestinal bleeding, or heart disease (especially if following a daily low dose aspirin regimen). If you have any of these conditions or similar concerns, be sure you discuss this with your dentist before your procedure for an alternative method for pain management.
If you would like more information on managing discomfort after dental procedures, please contact us or schedule an appointment for a consultation. You can also learn more about this topic by reading the Dear Doctor magazine article "Treating Pain with Ibuprofen."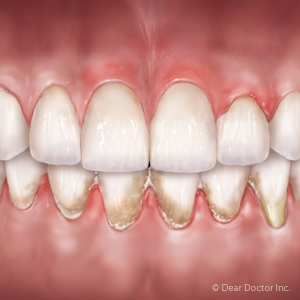 Periodontal (gum) disease can cause a number of devastating effects that could eventually lead to tooth loss. However, you may be more prone to a particular effect depending on the individual characteristics of your gums.
There are two basic types of gum tissues or "periodontal biotypes" that we inherit from our parents: thick or thin. These can often be identified by sight — thinner gum tissues present a more pronounced arch around the teeth and appear more scalloped; thicker tissues present a flatter arch appearance. While there are size variations within each biotype, one or the other tends to predominate within certain populations: those of European or African descent typically possess the thick biotype, while Asians tend to possess the thin biotype.
In relation to gum disease, those with thin gum tissues are more prone to gum recession. The diseased tissues pull up and away (recede) from a tooth, eventually exposing the tooth's root surface. Receding gums thus cause higher sensitivity to temperature changes or pressure, and can accelerate tooth decay. It's also unattractive as the normal pink triangles of gum tissue between teeth (papillae) may be lost, leaving only a dark spot between the teeth or making the more yellow-colored root surface visible.
While thicker gum tissues are more resilient to gum recession, they're more prone to the development of periodontal pockets. In this case, the slight gap between teeth and gums grows longer as the infected tissues pull away from the teeth as the underlying bone tissue is lost. The resulting void becomes deeper and more prone to infection and will ultimately result in further bone loss and decreased survivability for the tooth.
Either of these conditions will require extensive treatment beyond basic plaque control. Severe gum recession, for example, may require grafting techniques to cover exposed teeth and encourage new tissue growth. Periodontal pockets, in turn, must be accessed and cleaned of infection: the deeper the pocket the more invasive the treatment, including surgery.
Regardless of what type of gum tissue you have, it's important for you to take steps to lower your risk of gum disease. First and foremost, practice effective daily hygiene with brushing and flossing to remove bacterial plaque, the main cause of gum disease. You should also visit us at least twice a year (or more, if you've developed gum disease) for those all important cleanings and checkups.
If you would like more information on hereditary factors for gum disease, please contact us or schedule an appointment for a consultation. You can also learn more about this topic by reading the Dear Doctor magazine article "Genetics & Gum Tissue Types."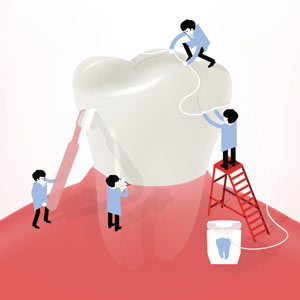 The human body's immune system has amazing defensive capabilities. Without it a common cold or small wound could turn deadly.
One of the more important processes of the immune system is inflammation, the body's ability to isolate diseased or injured tissue from unaffected tissue. Ironically, though, this vital component of the healing process could actually cause harm if it becomes chronic.
This often happens with periodontal (gum) disease, an infection of the gums caused by bacterial plaque built up on teeth due to inadequate hygiene, which in turn triggers inflammation. The infection is often fueled by plaque, however, and can become difficult for the body to overcome on its own. A kind of trench warfare sets in between the body and the infection, resulting in continuing inflammation that can damage gum tissues. Untreated, the damage may eventually lead to tooth and bone loss.
In treating gum disease, our main goal is to stop the infection (and hence the inflammation) by aggressively removing plaque and calculus (tartar). Without plaque the infection diminishes, the inflammation subsides and the gums can begin to heal. This reduces the danger to teeth and bone and hopefully averts their loss.
But there's another benefit of this treatment that could impact other inflammatory conditions in the body. Because all the body's organic systems are interrelated, what occurs in one part affects another especially if it involves inflammation.
It's now theorized that reducing gum inflammation could lessen inflammation in other parts of the body. Likewise, treating other conditions like high blood pressure and other risk factors for inflammatory diseases could lower your risk of gum disease and boost the effectiveness of treatment.
The real key is to improve and maintain your overall health, including your teeth and gums. Practice daily brushing and flossing to remove plaque, and visit your dentist regularly for more thorough cleanings. And see your dentist at the first sign of possible gum problems like bleeding, redness or swelling. You'll not only be helping your mouth you could also be helping the rest of your body enjoy better health.
If you would like more information on the relationship between gum disease and other systemic conditions, please contact us or schedule an appointment for a consultation. You can also learn more about this topic by reading the Dear Doctor magazine article "The Link between Heart & Gum Diseases."