Posts for: June, 2018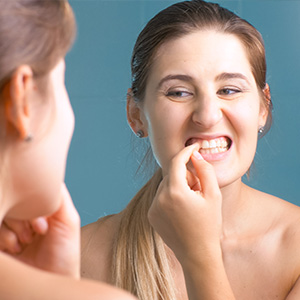 It takes only a few days of inadequate oral hygiene for bacterial plaque to trigger the periodontal (gum) disease gingivitis. Though sometimes subtle, there are signs to watch for like inflamed, reddened or bleeding gums.
Untreated gingivitis can develop into more advanced forms of gum disease that infect deeper levels of the gums and supporting bone and ultimately cause bone and tooth loss. Fortunately, though, prompt treatment by a dentist removing plaque from teeth and gums, along with you reinstituting daily brushing and flossing, can stop gingivitis and help restore health to your gums.
If you're under acute stress or anxiety, however, basic gingivitis can develop into something much more serious and painful, a condition called Acute Necrotizing Ulcerative Gingivitis (ANUG). It's also known as "trench mouth" from its common occurrence among World War I soldiers experiencing stressful periods in front line trenches without the means for proper oral hygiene.
ANUG develops from a "perfect storm" of conditions: besides anxiety and deficient hygiene practices, ANUG has a high occurrence risk in people who smoke (which dries the mouth and changes the normal populations of oral bacteria) or have issues with general health or nutrition.
In contrast to many cases of basic gingivitis, ANUG can produce highly noticeable symptoms. The gum tissues begin to die and become ulcerative and yellowish in appearance. This can create very bad breath and taste along with extreme gum pain.
The good news is ANUG can be treated and completely reversed if caught early. In addition to plaque removal, the dentist or periodontist (a specialist in the treatment of gum disease) may prescribe antibiotics along with an antibacterial mouthrinse to reduce bacteria levels in the mouth. A person with ANUG may also need pain relief, usually with over-the-counter drugs like aspirin or ibuprofen.
It's important that you seek treatment as soon as possible if you suspect you have ANUG or any gum disease. It's possible to lose tissue, particularly the papillae (the small triangle of tissue between teeth), which can have an adverse effect on your appearance. You can also reduce your risk by quitting smoking, addressing any stress issues, and practicing diligent, daily oral hygiene and visiting your dentist for cleanings and checkups twice a year or more if needed.
If you would like more information on the signs and treatments for gum disease, please contact us or schedule an appointment for a consultation. You can also learn more about this topic by reading the Dear Doctor magazine article "Painful Gums in Teens & Adults."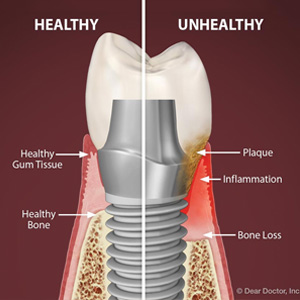 You've invested quite a bit in your new dental implants. And it truly is an investment: because of implants' potential longevity, their long-term costs could actually be lower than other restorations whose upfront costs might be less.
But to better ensure their longevity, you'll need to keep your implants and the natural tissues supporting them clean of bacterial plaque, a sticky biofilm that can cause periodontal (gum) disease. Although the implant itself is unaffected by disease, the natural tissues around it can be.  An infection could ultimately weaken the bone supporting the implant and lead to its failure.
Such an infection involving implants could advance rapidly because they don't have the natural defenses of the original teeth. Our natural teeth are connected to the jaw through the periodontal ligament, a collagen network that attaches to both the teeth and the bone through tiny tissue fibers. This connection also provides access to antibodies produced by the body to fight infection.
By contrast, we place implants directly into the jawbone. While this creates a very secure attachment, the implant won't have the same connection as teeth with the body's immune system. That means any infection that develops in surrounding tissues can spread much more rapidly—and so must be dealt with promptly.
Treating this particular form of gum disease (known as peri-implantitis) is similar to infections with natural teeth and gums, with one important difference involving the tools we use to remove plaque from them. While natural teeth can handle metal scalers and curettes, these can create microscopic scratches in the porcelain and metal surfaces of an implant and create havens for further bacterial growth. Instead, we use instruments made of plastic or resin that won't scratch, as well as ultrasonic equipment to vibrate plaque loose.
To avoid an infection, it's important that you brush your implants and surrounding tissues just like you would your natural teeth (be sure you use a soft-bristled brush). And keep up regular dental visits for thorough cleanings and checkups to stay ahead of any developing gum infection. Maintaining your dentures will help ensure they continue to brighten your smile for a long time.
If you would like more information on dental implants, please contact us or schedule an appointment for a consultation. You can also learn more about this topic by reading the Dear Doctor magazine article "Dental Implant Maintenance: Implant Teeth Must be Cleaned Differently."